4/27/2009 – 4/28/2009
Many people are wary of going to Chinatown because they've heard it's scary or they think it's a high crime area. Maybe this is partly true, but I still love going there since my Chinatown experiences have always been pleasant. You should come here and see for yourself.
Since I didn't have a detailed Chinatown map with me, I just let myself loose and simply roamed around. The traffic police was extremely helpful. I have no problem asking for directions. There was one time when a couple police were trying to figure the direction for me, a few locals stopped by as well trying to help. We chatted a little. The police told me that you'll get a $30 ticket if your parking meter expires. He was smiling when telling me this, so I wasn't sure if he was telling a joke or it's a fact. Anyway, just don't let your parking meter expires if you park at the roadside.
A shopkeeper at a bakery saw me crossing the road and she told me that it's $130 ticket if I get caught not using the traffic light. Oppps! I didn't know that. Thanks for the advice from all these friendly people.

I visited Chinatown pretty early in the morning (7-8am ish). It was an indescribable good feeling to see the merchants open their doors one by one and get ready for business.
Guide book says Oahu Market has the freshest poke (fresh raw fish mixed with seaweed, sesame sees and other seasonings) on the island. So, Oahu Market, here I came!
There are three markets in Chinatown, namely Maunakea, Oahu and Kekaulike. They are all next to each other, but on different streets.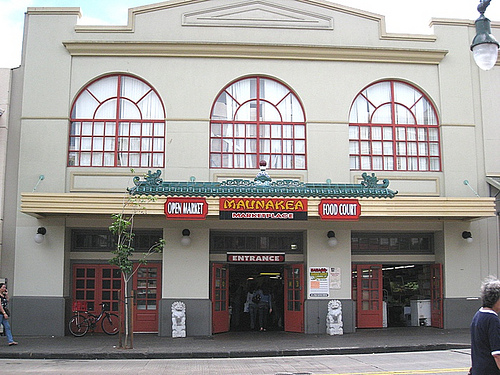 Maunakea Market. It has a food court inside.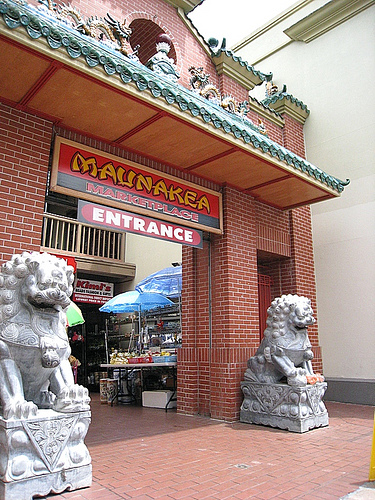 Maunakea Market, second entrance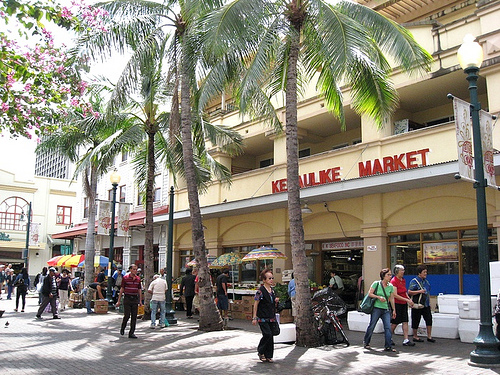 Kekaulike Market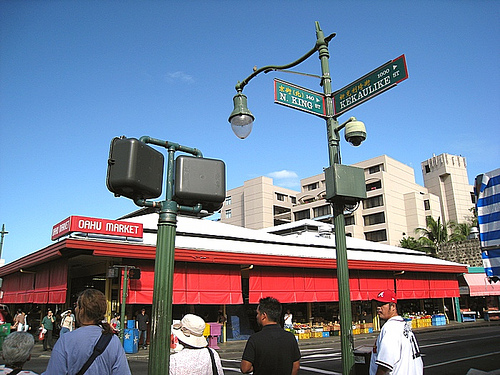 Oahu Market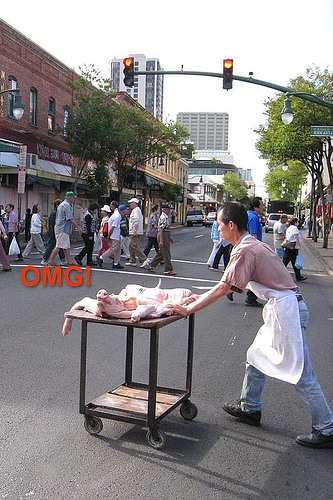 Hey. Look at me! Now, that is a bit scary….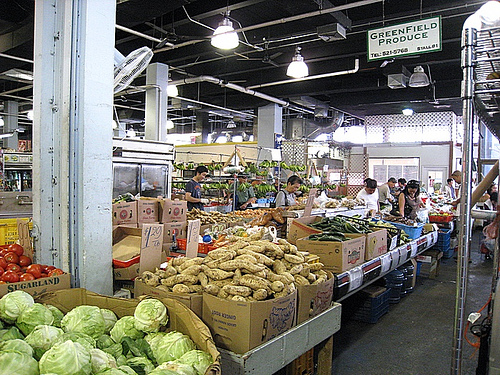 Lots of fresh produce – the turnover is high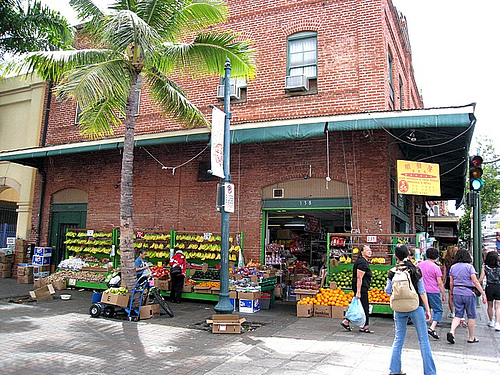 Fresh fruits, anyone?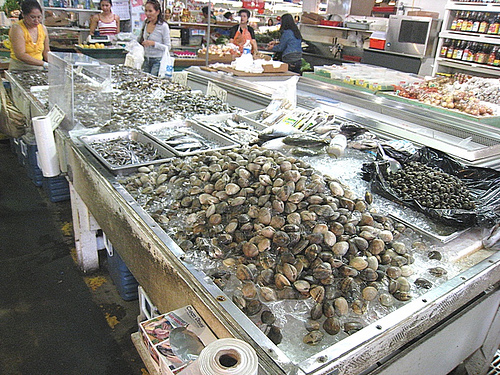 Fresh seafood is abundant. You can get sweet island shrimps here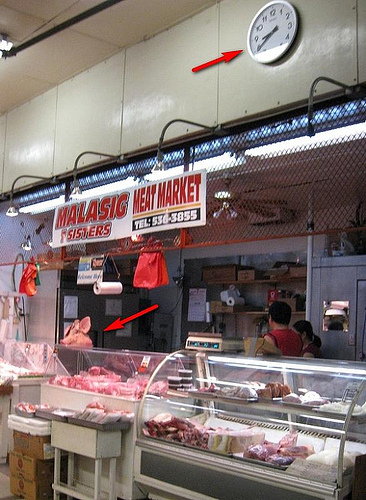 I tried not to look at this pig head when I passed by this stall.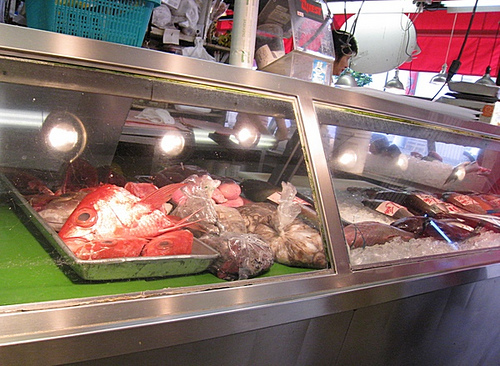 How about fish head soup for tonight?
POKE!!!! I found you!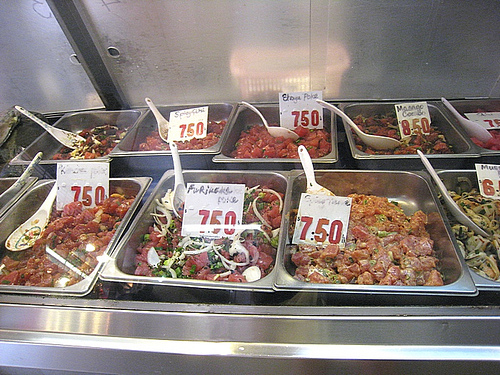 Good selections of poke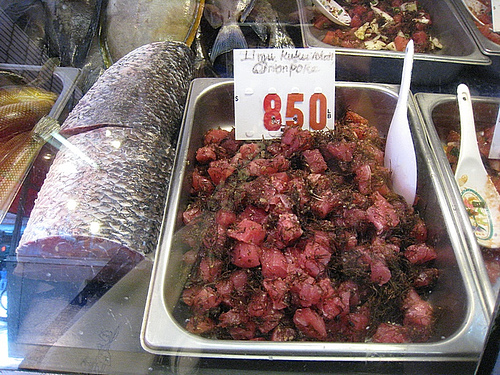 I tried this Limu (seaweed) Kuku Onion Poke
There were three stalls selling poke. I just randomly picked one stall. I am a big fan of raw fish and seaweed. But I didn't like the poke that I bought. The taste of seaweed was too overpowering.

No regret for trying though.
Karan and Radim joined me for a late lunch/early dinner at the Maunakea Market food court. This food court offers a good assortment of Asian food stalls: Singaporean, Malaysian, Thai, Filipino, Korean, Japanese and Vietnamese.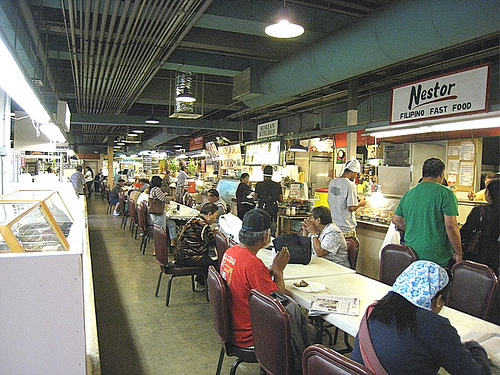 Maunakea Market Food Court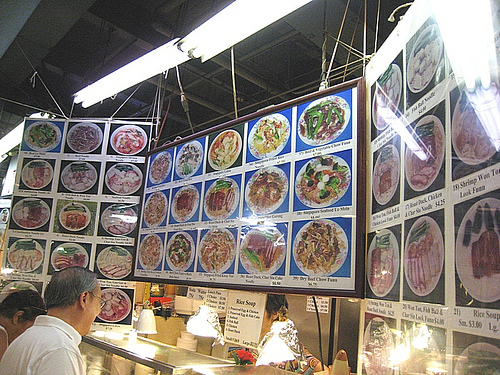 Some vendors offer fully-cooked meals ready to take, as well as short-order items like fried noodle cooked to order.
Of the more than dozen stalls here, almost half offer Filipino foods. Radim and Karan ordered Abodo Chicken and loved it. We intended to have a snack here but ended up sampling different regional foods.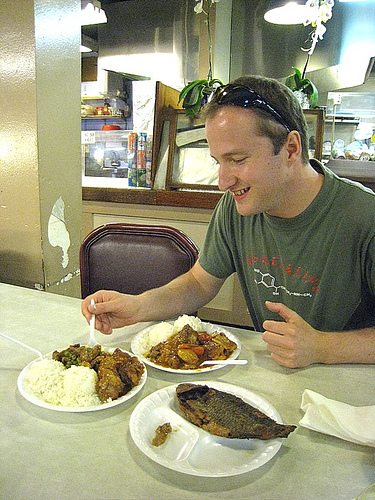 Happy camper Radim tries some food from Karan's plate. $3 for a plate of white rice and Abodo Chicken. Can't beat that!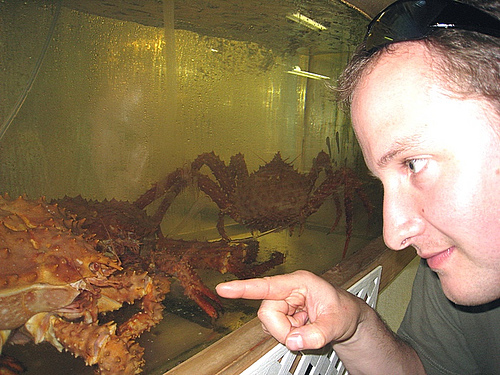 Before leaving the market, Radim didn't forget to tease the crabs/lobsters in the tank.