My last manicure was four months ago. My nails and fingers were pretty banged up from house renovation, packing and moving. So, I thought my fingers (and toes) deserve some tender loving care.
Amy was so sweet to walk me to a nail salon nearby.
On the way, she told me about the history of the neighborhood and pointed out the places that she likes to buy her groceries. Homemade marmalade by nuns from a local church, croissants from a french bakery, empanadas (pie) from a local eatery, etc.
5 minutes later, we reached Anush salon. It's a very basic salon. I think only locals would come here. I'm not picky and don't usually judge a book from its cover.
Amy: "Do you know your way home?"
Me:"Yes, just go straight from here for a few blocks."
Amy (gasps):"No, you have to turn left at the next block. And you are taking my cellphone with you next time you go out."
How sweet!
I really don't have poor sense of direction. I should blame it on Amy's interesting stories during the walk.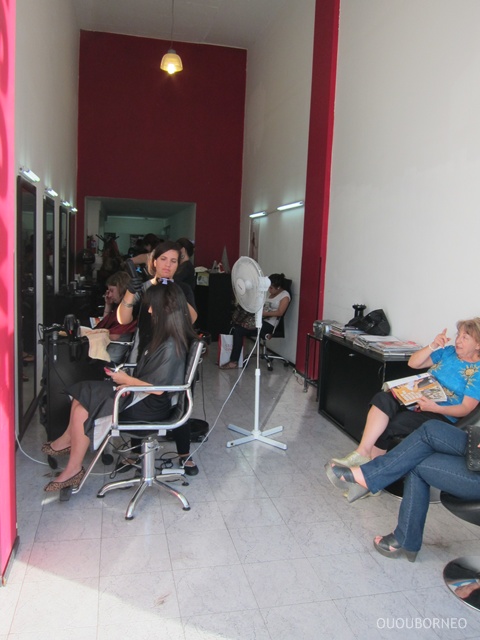 I looked around the salon, most customers were getting their hair straightened. There was this chemical that they used in the hair that made my eyes watery.
While waiting, a lady must thought I was a local (how?) and asked me, "Ora?"
Me: "Huh?"
Anonymous Lady: "Ora? Ora?"
I must had a "I'm lost or I'm not a clock" kind of facial expression that she turned to a different person and asked the same question.
Ora means time in Spanish.

Anyway, even though I don't understand Spanish, I enjoyed watching the locals interact with each other. They laughed a lot and hugged a lot.

Personally I didn't think it was professional for my nail technician to leave a customer (me) and went to hug a friend who had brought her a cake, but I just smiled.
She later joked with me and pulled out a lime green nail polish and pointed at my toes.

Funny girl.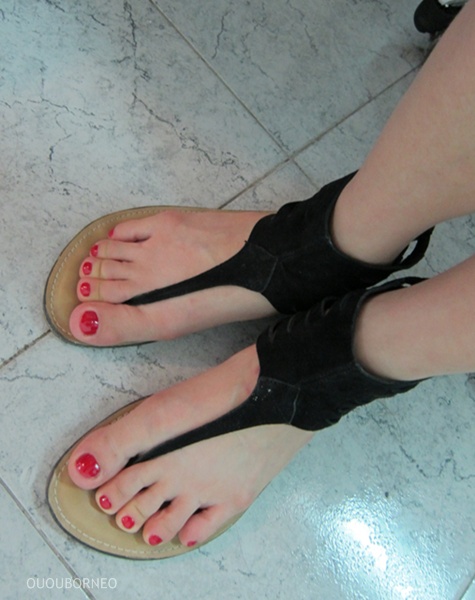 Tata! All done. I chose red for a touch of passion.
Anush Salon is a pretty basic salon, but I was happy with my nails.
Cost of manicure and pedicure: 80 pesos